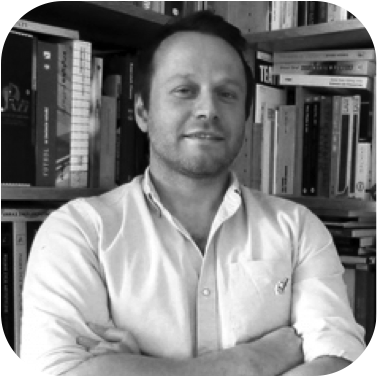 Episode 116: Ahmed Cherkaoui in Warsaw:
Polish-Moroccan Artistic Relations during the Cold War, 1955-1980
In this podcast, Dr. Przemysław Strożek reflects on Polish-Moroccan artistic relations between 1955 and 1980. He situates them within the broader historical phenomenon of a political and cultural rapprochement between countries of the Eastern Bloc and of the Global South during the Cold War. Focusing on Ahmed Cherkaoui's sojourn in Warsaw from October 1960 to July 1961, he traces the artist's connections with Polish artistic circles, particularly the Krzywe Koło Gallery in Warsaw. He then discusses other Moroccan artists (e.g. Farid Belkahia, Mustapha Hafid, Aziz Sayed, Najib Kheldouni, Azzedine Douieb and Abdelkader Lagtaa) who studied and interned at art schools in Warsaw and Kraków, as well as at the Film School in Łódź. He examines how these artists experienced Polish matter painting and abstract art of the 1960s, as well as academic art, experimental film, conceptual practices and the graphic art of the late 1970s.
Pzemysław Strożek is Assistant Professor at the Art Institute of the Polish Academy of Sciences in Warsaw, Poland, associate researcher at the Archiv de Avantgarden in Dresden, Germany, curator of exhibitions, and author of multiple publications. Dr. Strożek is a recipient of fellowships awarded by the Foundation for Polish Science, as well as the Fulbright Foundation. His research interests include histories of the avant-garde, studies on workers' sport, global modernism, and contemporary art. In 2020, he co-curated (together with Sara Lagnaoui) the exhibition titled Ahmed Cherkaoui in Warsaw: Polish-Moroccan Artistic Relations during the Cold War, 1955-1980 at the Zacheta National Art Gallery in Warsaw, Poland (March 10 to August 2, 2020).
This interview was led by Dr. Katarzyna Faleçka, CAORC Project Coordinator and Postdoctoral Humanities Fellow at the Centre d'Études Maghrébines à Tunis (CEMAT) and was recorded on February 7, 2020, as part of the Modern Art History in the Maghrib series. This is part of a larger Council of American Overseas Research Centers' program, financed by the Andrew Mellon Foundation, that seeks to collaborate with local institutions for a greater awareness of art historical research in North Africa.
to see related slides visite our website www.themaghribpodcast.org
Posted by: Hayet Lansari, Librarian, Outreach Coordinator, Content Curator (CEMA).