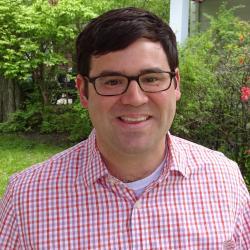 Episode 42: Colonial Andalus 
In this episode, Dr. Eric Calderwood, Assistant Professor of Comparative Literature at the Department of Comparative and World Literature, University of Illinois at Urbana-Champaign speaks about his recent book, Colonial al-Andalus: Spain and the Making of Modern Morocco (Harvard University Press, 2018). Dr. Calderwood offers an overview of his book, and reflects on how the time he has spent in Morocco (especially Tetouan) has shaped his research topic and his understanding of Moroccan history and literature.
Grounded in nearly a decade of research in Spain and North Africa, Colonial al-Andalus explores the culture, politics, and legacies of Spanish colonialism in Morocco (1859-1956). It traces the genealogy of a widespread idea about Morocco: namely, the idea that modern Moroccan culture descends directly from al-Andalus. This idea is pervasive in contemporary Moroccan historiography, literature, and political discourse. Colonial al-Andalus argues that Morocco's Andalusi identity is not a medieval legacy, but is, instead, a modern invention that emerged from the colonial encounter between Spain and Morocco in the nineteenth and twentieth centuries. In pursuit of this argument, the book examines a diverse array of Arabic, Spanish, French, and Catalan sources, including literature, historiography, journalism, political speeches, tourist brochures, and visual culture.
Dr. Eric Calderwood is an Assistant Professor of Comparative Literature at the University of Illinois at Urbana-Champaign, where he also holds faculty appointments in the Department of Spanish and Portuguese, the Center for South Asian and Middle Eastern Studies, the Program in Medieval Studies, the Unit for Criticism and Interpretive Theory, and the Program in Jewish Culture and Society. He received his Ph.D. from Harvard University in 2011. His research explores modern Mediterranean culture, with a particular emphasis on Spanish and North African literature and film. In addition to his recent book on Morocco, he has published articles in such journals as PMLA, Journal of Spanish Cultural Studies, The Journal of North African Studies, and International Journal of Middle East Studies. He has also contributed essays and commentary to such venues as NPR, the BBC, Foreign Policy, and The American Scholar.
This podcast was recorded at the Tangier American Legation Institute for Moroccan Studies (TALIM), on 11 May 2018.
To see related slides, visit our website: www.themaghribpodcast.com