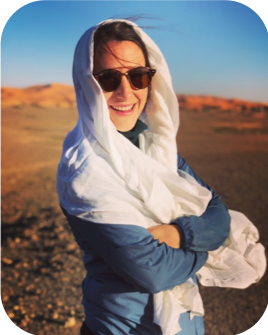 Episode 53: The History of Pan-Africanism in the Postcolonial Period:
The Pan-African Festival of Algiers of 1969 (PANAF)
Paraska Tolan Szkilnik is a PhD candidate at the University of Pennsylvania. She obtained her BA from Brandeis University in 2011 and an MA from the EHESS (École des Hautes Études en Sciences Sociales) in 2014, working on the relationship between Senegal and Tunisia in the 1960s and 70s. Her doctoral work is concerned with the history of cultural Pan-Africanism in the Maghreb in the decades following independence. Moving away from the strictly political approach of much of the literature on Pan-Africanism, her dissertation reconsiders the history of Pan-Africanism in the postcolonial period by centering on three Maghrebi cultural spaces of encounter between Black and non-Black African and Diaspora artists in the late 1960s and early 1970s: the Journées Cinématographiques de Carthage(JCC), the Moroccan literary journal Souffles, and the Pan-African Festival of Algiers of 1969 (PANAF).
In this podcast, Paraska Tolan Szkilnik gives us a sample of the fourth chapter in her dissertation, a chapter focusing on what she calls the Alt-PANAF, the group of radicals who participated in giving the festival its Pan-African character from the margins. These young actors, revolutionaries and writers did not meet on the rue Didouche Mourad or in the Palais des Nations. Instead they gathered in Algerian poet Jean Sénac's stuffy basement apartment where they received Moroccan poets and editors of the revolutionary poetry journal Souffles, Haitian poet René Depestre, leader of the MPLA Mario Pinto de Andrade, and many more. Raised to the beat of Fanon's The Wretched of the Earth,they were not enticed by the nationalistic promises of the ruling elite. Through personal interviews, critical reading of these writers' fiction, and the material she have gathered in Jean Sénac's archives in Algiers, she showcases the encounters that, though they did not occur in the spotlight, were just as crucial in building a community of radical artists committed to the project of African cultural unity. In this piece she tells the story of a handful of radicals from across the world who were looking to build a Pan-African network that ran deeper than the ceremonious speeches their presidents and state-sponsored artists so often delivered.
This episode is part of the Arts and Letters in the Maghrib series and was recorded on June 4th, 2018 at the Centre d'Études Maghrébines à Tunis (CEMAT), in Tunis, Tunisia.
The music in the introduction and conclusion of this podcast was performed by street artists on Avenue Bouguiba, Tunis, Tunisia.
Posted by Hayet Lansari, Librarian, Outreach Coordinator, Content Curator (CEMA).